750SS AND VINTAGE SPEEDWAY RACERS TOP SUCCESSFUL STAFFORD SALE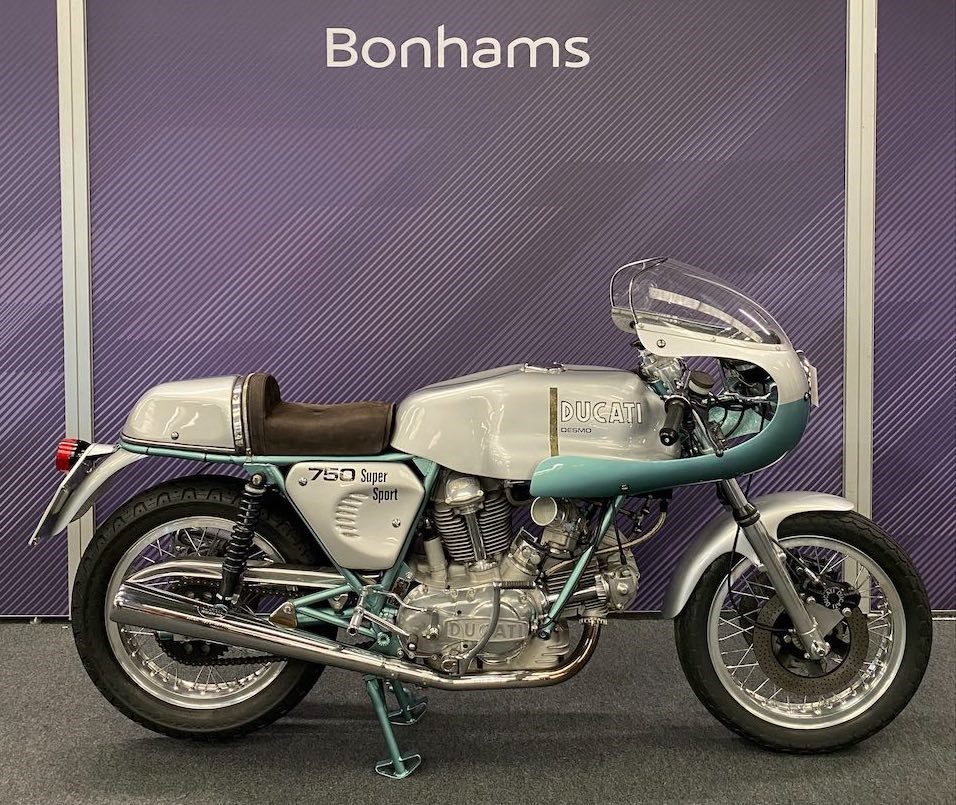 1974 Ducati 750SS, SOLD for £172,500, topping the Bonhams Autumn Stafford Sale
One of the most coveted classic Ducatis, a rare 1974 'round case' Ducati 750SS which had been kept for most of its cosseted life in private collections, found a new custodian this weekend, selling for £172,500 and topping the Bonhams Autumn Stafford Sale which realised a total of £3.66 million, with 96% of all lots sold.
The success of the superbike at Stafford came in the 50th anniversary year of the late Paul Smart's victory in the 1972 Imola 200 endurance race on its racing equivalent.
Ben Walker, Global Head of Bonhams Motorcycles, said: "This was a superb opportunity to own one of the most iconic Ducatis and there was strong competition in the room, online and on the telephone."
In the Ducati's slipstream was a pre-war American speedway sensation, 1934 Crocker Speedway 500cc OHV which achieved £126,500. This hand-built dirt tracker, known as the 'Red' Rice Crocker after its original rider, was considered one of the most original known examples.
The Crocker was offered from the sensational Forshaw Collection of 31 Speedway motorcycles representing six decades of the sport's glory years, put together as a 'labour of love' by the late enthusiast, engineer and former speedway rider Richard Forshaw.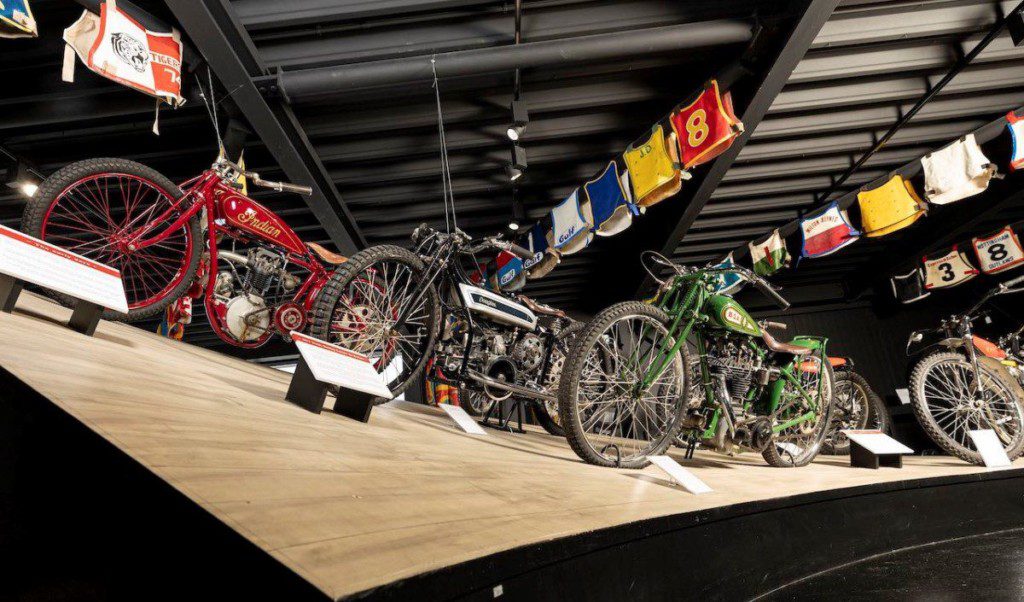 The Forshaw Collection of Speedway Motorcycles, 100% sold
Displayed at the prestigious Haynes Motor Museum for the past 25 years, the collection was 100% sold, including a circa 1929 Scott 498cc Dirt Track motorcycle which sold for £24,150, more than twice its estimate, and a 1939 Excelsior Jap 500cc Mk1 Speedway Racing Motorcycle which doubled its estimate, netting £18,400.
Other single-owner collections achieving 'white glove' sales at Stafford included the David Atkinson Collection. The selection of mainly British motorcycles gathered by the late enthusiast who was an ever-present figure at the Bonhams Stafford sales was led by a 1938 Brough-Superior SS80 which sold above estimate for £67,850.
A 100% sale rate was also attained by the Warwick Blackwell Collection, a treasure trove of racing motorcycle projects and associated spares amassed over several decades and recently unearthed by Bonhams.
Other highlights of the Bonhams Autumn Stafford Sale included: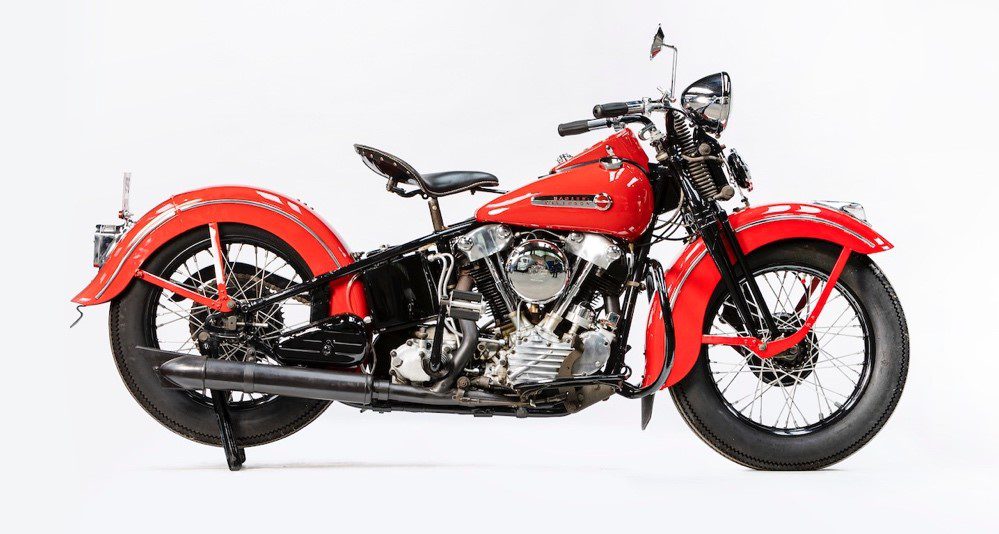 1947 Harley-Davidson 1,2000cc EL 'Knucklehead', sold for £74,750
1929 Grindlay-Peerless 498cc Brooklands 'Hundred Model' (Lacey Replica), made £74,750. One of only two surviving replicas of the world-record breaker ridden by Bill Lacey, which itself earned a Brooklands Gold Star, ridden by H J 'Boy' Tubb.
1935 Brough-Superior, 1096cc 11-50hp, which doubled the estimate to achieve £72,450. A 'deluxe' model of motor cycling's golden age superbike, which was offered for more than 50 years one-family ownership.
1955 Vincent 998cc Series-D Black Prince, sold at top estimate for £67,850. One of several examples of the marque that made black magic at the sale, the final Vincent V-twin model, dubbed the ultimate 'gentleman's motorcycle', this 'like new' example had been off the road for more than 50 years before being treated to a no expense spared restoration.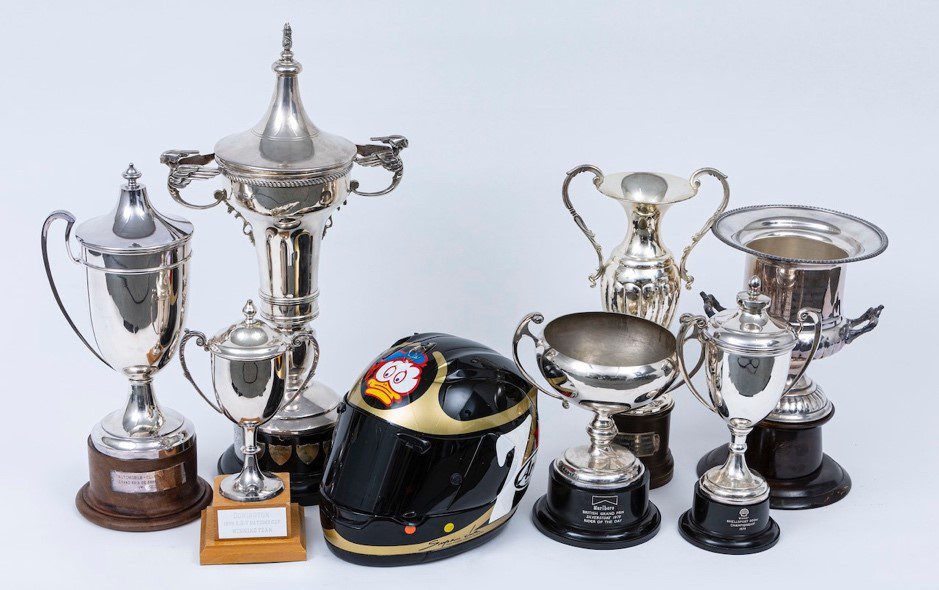 The Barry Sheene Collection including The MotorCycle Star Rider Trophy (third from left)
which sold for £4,805
The two-day Bonhams Autumn Stafford Sale also offered a wealth of motorcycle spares and motorcycling memorabilia, always popular with the Stafford crowd. Of note was the Barry Sheene Collection of trophies and racing helmets offered direct from the late World Champion's family, with several lots roaring past their estimates, including The MotorCycle Star rider trophy awarded to both Barry Sheene and Mike Hailwood, which made £4,805, against its top estimate of £800.
The total achieved by the 2022 Autumn sale was up 69% compared with last year's and saw participation from no fewer than 29 countries worldwide, from Europe to America, via Canada, India and South Africa.
The results of this sale close another successful year for Bonhams Motorcycles, with a total of £6.9 million and average sell-through rate of 97% realised in 2022.
James Stensel, Head of Bonhams Motorcycles UK, said: "This was another fantastic result, reflecting the careful curation of this sale. We were delighted to have achieved several white glove results for the collections and for their vendors who entrusted us with their motorcycles.
Malcolm Barber, Chairman Emeritus, Bonhams Motoring, and Auctioneer for the sale, added "Stafford has always been the bellwether auction for the classic and collectors' motorcycle market. This sale demonstrated the strength of the worldwide market with bidding from several continents."
The Bonhams Motorcycles team will return to Stafford for the 2023 Spring Sale on 22 and 23 April. Consignments of important motorcycles and collections are already being invited.
Contact the Bonhams Motorcycles team for further information ukmotorcycles@bonhams.com – +44 (0) 20 8963 2817 or visit bonhams.com/motorcycles.
Sale: Autumn Stafford Sale: The Classic Motorcycle Mechanics Show
Location: The Staffordshire County Showground, Stafford
Date: 15-16 October, 2022