There will be hundreds of classic motorcycles on display at the Newark Winter Classic Bike show so it might be hard to see everything in just one day. Here's our quick pick of six two-wheelers that you simply must seek out!
This 1967 Kawasaki Samurai 250 A1 is just sublime and takes pride of place in Richard Holmes' garage. The reputation of Kawasaki's mighty 'little' two-strokes was often overshadowed by its larger relative the Mach III triple cylinder, however, the smaller twin-cylinder two-strokes such as the 350cc A7 Avenger and the 250cc A1 Samurai are no less fierce for their size, in particular the A1 Samurai. With a claimed 31bhp maximum and a top speed of 103mph (I know, in 1967!!), it had an impressive performance for a 250 in the day.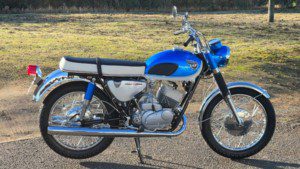 Martin Armstrong's 1995 Yamaha TRX 850 is no factory standard. Far from it. This stunning track day weapon is what the TRX should have been when it finally landed on the shores of the UK in January 1996. Proper brakes, and amazing custom exhaust making the most of that 849cc motor; simply stunning. As for BHP… well you'll have to as the owner.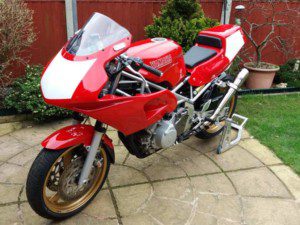 The 1971 500 Daytona model was the last model from Triumph to receive any significant development before the end of Triumph itself. You may recall that it was in July 1937 the first Triumph twin appeared, as a 500, and the last one still with the same visual markers went away at the factory blockage of 1975. Steve Moore's example if faithful to the last and a stunning example of what Triumph was all about in the late 60's and early 70's!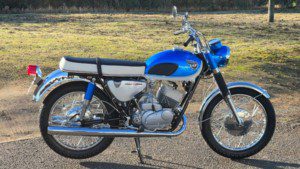 How about George Scobell's trio of Lambrettas; Two SX150s and a TV200? What's not to like about these beauties? You'll find them in the Scooter World halls, with George on hand to tell you all about them.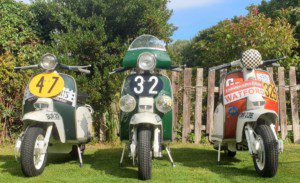 Successor to the 160 GS, the Vespa 180 Super Sport brought a new style (and ccs) to the GS foundation. The 180 SS had a 4-Speed, grip-shift, constant mesh transmission making it a perfect urban pocket rocket. This sixties icon, owned by Stuart McNeill was sold in smaller numbers compared to the GS and is often referenced as the Top Dog when compared between the two. The 180s look was very distinctive with its clamshell speedometer and that headlight.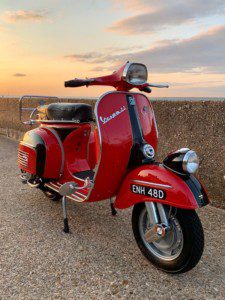 Steve Cooper's 1979 Yamaha XS 1100 Martini is definitely a bike worth raising a glass to! This is a UK-registered bike from new and is original and fully refurbished in its current guise. It's an exceedingly rare machine and one of only 500 ever made for the world market with only 65 allocated to the UK.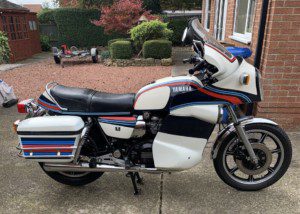 Get your tickets now and save £££s in advance!