A Reigning Isle of Man TT Champion Motorcycle Offered for First Time at Auction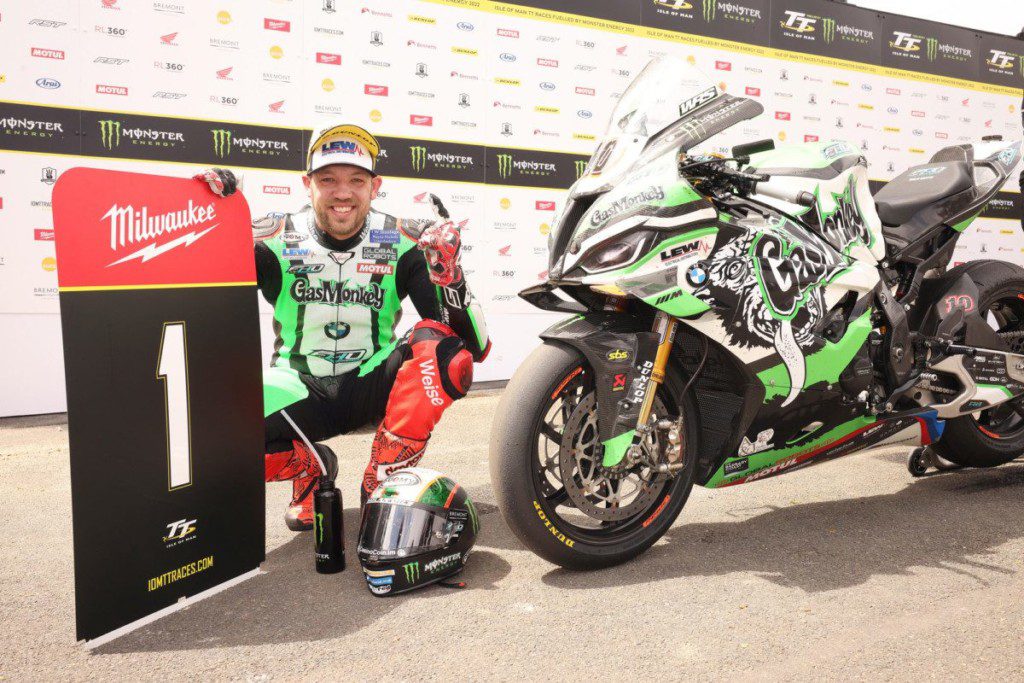 Gas Monkey BMW by FHO Racing, 2022 M 1000 RR Superbike, ridden to victory by Peter Hickman in last year's Superbike and Senior TT Race, estimate £80,000-100,000 (image copyright FHO Racing)
The reigning Isle of Man TT Champion motorcycle will cross an auction block for the very first time when the Gas Monkey BMW by FHO Racing, 2022 BMW M 1000 RR Superbike, ridden to victory by Peter Hickman in last year's Superbike and Senior TT Race is offered in Bonhams Spring Stafford Sale on 22-23 April. It has an estimate of £80,000-100,000.
The champion motorcycle is offered exactly as it crossed the finish line of the world's largest road race finale, the blue riband Senior TT, 16.9 seconds ahead of nearest rival Dean Harrison's Kawasaki, complete with its original race winning fairing, speckled with flies from the gruelling 228-mile race.
The motorcycle is a one-off version of the BMW M 1000 RR Superbike, run last season by the Lincolnshire-based team, which has been campaigning BMW Motorrad's first M model since it was introduced in 2021. Loosely based on the production superbike, this TT machine is the full-factory version designed specifically for the TT Superbike and Senior races' challenging 37.73-mile mountain road course.

Peter Hickman racing his Gas Monkey BMW by FHO Racing, 2022 M 1000 RR Superbike, in last year's Isle of Man TT (image copyright FHO Racing)
The Superbike's bespoke specification includes a strengthened blank braced frame direct from BMW, BMW factory Type 7.1 engine, Brembo discs and calipers, Öhlins forks and damper and the Dunlop tyres used for the Senior TT race. The machine still has its 'Parc Fermé' band on the top yoke and its 'warhorse' Senior TT winning fairing – in immediate post-race condition.
Dave Hancock, Bonhams Motorcycle Consultant, said: "This is a very special motorcycle. It's survived 12 laps over two races of the world's most challenging and infamous road circuits – more than 450 miles at an average speed of more than 130mph. It's the closest you'd get to buying an active racing machine – an absolute rarity."
With his Superbike and Senior TT victories last June, Hickman became the fourth rider in TT history to win four races in a week – bringing his tally of wins to date on the island to nine. The result also won him the coveted Joey Dunlop TT Championship with 111 points. He was also the outright fastest lap record holder of the event – therefore the fastest man on the Isle of Man – having clocked an average speed of 133.461 mph on this machine in the Superbike TT.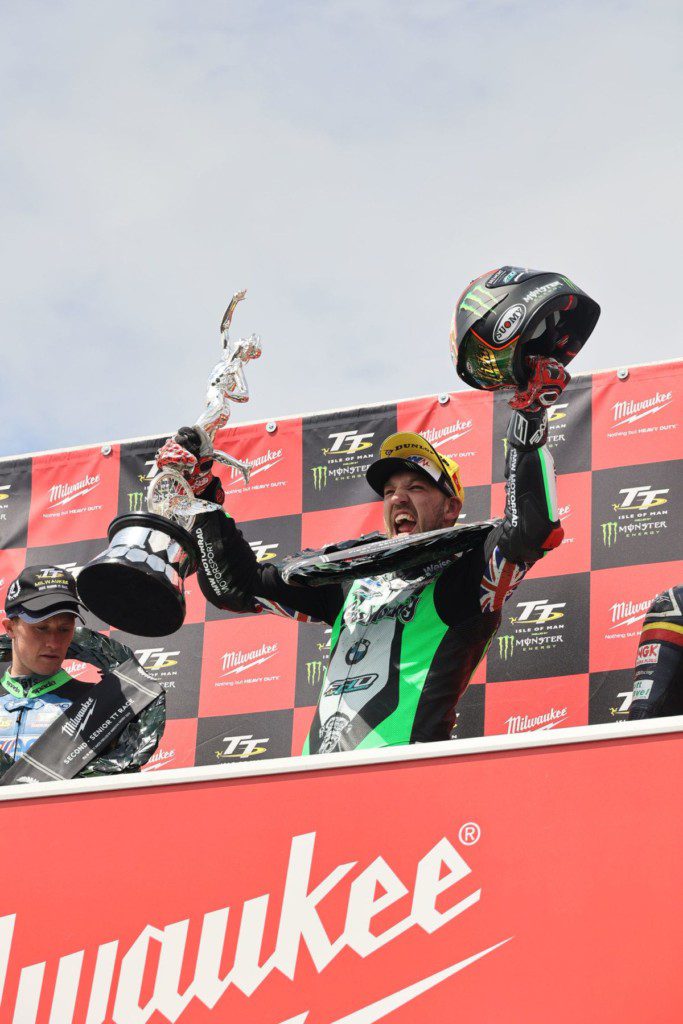 Peter Hickman on the podium following his 2022 Senior TT victory on the Isle of Man,
(image copyright FHO Racing)
The machine is being offered direct from the FHO Racing BMW team. Founded in 2021 by team owner and principal Faye Ho, the British Superbike team made its successful debut in TT racing last year.
James Stensel, Head of Bonhams Motorcycles UK, said: "Never before has a 'current' TT-winning motorcycle been offered for sale at a public auction and Bonhams is especially proud to have been entrusted with finding a new custodian collector for Peter Hickman's 2022 Isle of Man Superbike and Senior TT-winning Gas Monkey BMW by FHO Racing, 2022 M 1000 RR Superbike. This is a truly exceptional opportunity to acquire an important piece of motorcycling history."
The historic motorcycle will be previewed on the Bonhams stand at the 17-19 February MCN London show in advance of it going under the hammer in Stafford in April.
The Bonhams Spring Stafford Sale will once again offer collector motorcycles from veterans to cutting-edge contemporary machines. One of the other many racing highlights of the sale is an incredibly rare Works Honda Racing Motorcycle, a 1963 Honda 250cc CR72 (Estimate £120,000 – 150,000). Ridden throughout Rhodesia in the 1960's by six-times world Champion Jim Redman along with fellow countryman and Grand Prix racer Bruce Beale, it has more recently been campaigned by him in classic events including Imatra and Essen, following a comprehensive 30-year restoration.
Further consignments of important motorcycles and collections are being invited. Contact the Bonhams Motorcycles team at: ukmotorcycles@bonhams.com or visit www.bonhams.com/motorcycles to request a complimentary auction valuation.
Sale: The Spring Stafford Sale
Location: The International Classic MotorCycle Show, Staffordshire County Showground, Stafford
Date: 22-23 April 2023