Bonhams : The Spring Stafford Sale – The International Classic MotorCycle Show
1923 Rudge 500cc Four-Speed Motorcycle Combination which featured in multiple Oscar-winning film Chariots of Fire, estimate £14,000-18,000 (image for illustration only)
A vintage Rudge motorcycle from the multiple Oscar-winning film Chariots of Fire is one of the supporting stars of the Bonhams Spring Stafford Sale, with the lead performer a 1931 Brough Superior, that year's Olympia Motor Cycle Show bike, acquired for £150 in 1973 and now estimated at £150,000-180,000.
Chariots of Fire, which depicted the story of two rival Olympic runners, was one of the most successful films of 1981 and is still considered one of the finest sports dramas, with one of the most famous opening scenes of the lead actors running along West Sands beach, St Andrews, accompanied by Vangelis' famous Oscar-winning musical score.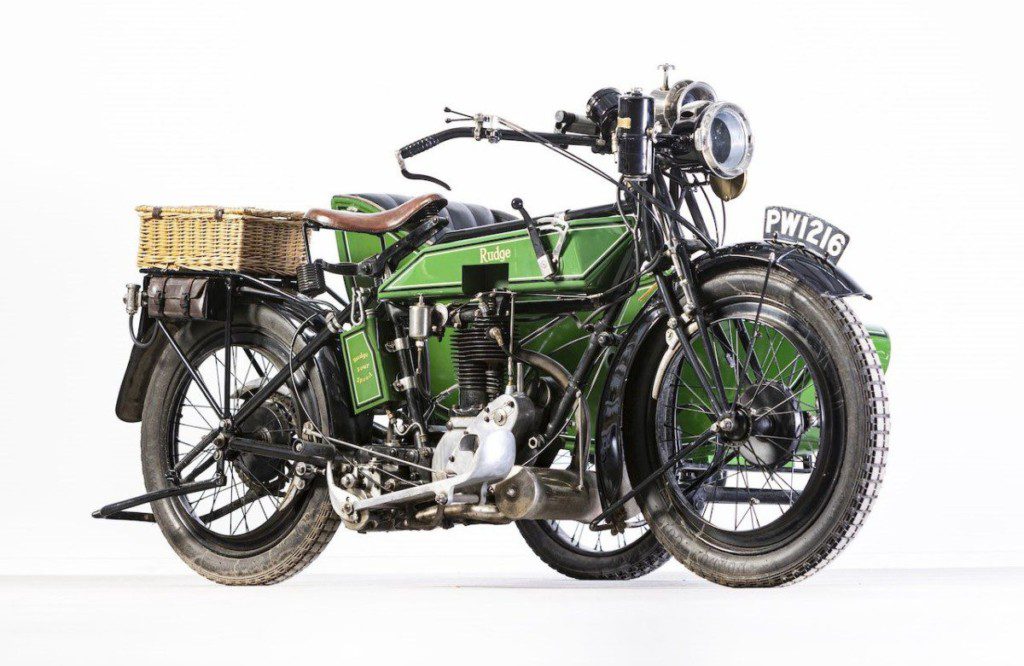 1923 Rudge 500cc Four-Speed Motorcycle Combination which featured in multiple Oscar-winning film Chariots of Fire, estimate £14,000-18,000
The apple green 1923 Rudge 500cc Four-Speed Motorcycle Combination featured in another of the film's beach scenes. The motorcycle was ridden by actor Struan Rodger as the character Sandy McGrath, accompanying friend Eric Liddell, played by Ian Charleson, on his run along West Sands Beach, St. Andrews, Fife. The motorcycle's striking colour scheme and registration number are clearly visible.
Some 40 years later, the Rudge was acquired as a 'basket case' by the vendor who restored it to its former glory. Notable features include a Rudge single-seat sidecar with black leather upholstery; Stewart speedometer; Klaxon 'Type ES' horn; Lucas 'King of the Road' acetylene headlamp and generator; Lucas sidecar lamp; BTH Magneto; and a Senspray carburettor. It is offered with an estimate of £14,000-18,000.
A fellow pre-war machine, the 1931 Brough Superior 1,000cc SS100 was one of the fastest and most luxurious motorcycles of the era. This example was a star from the beginning, with its debut at that year's Olympia Motor Cycle Show. As a Show model, the Brough had an enhanced finish, with chromium plated fuel tank, mudguards and wheels featuring a gold-lined black centre.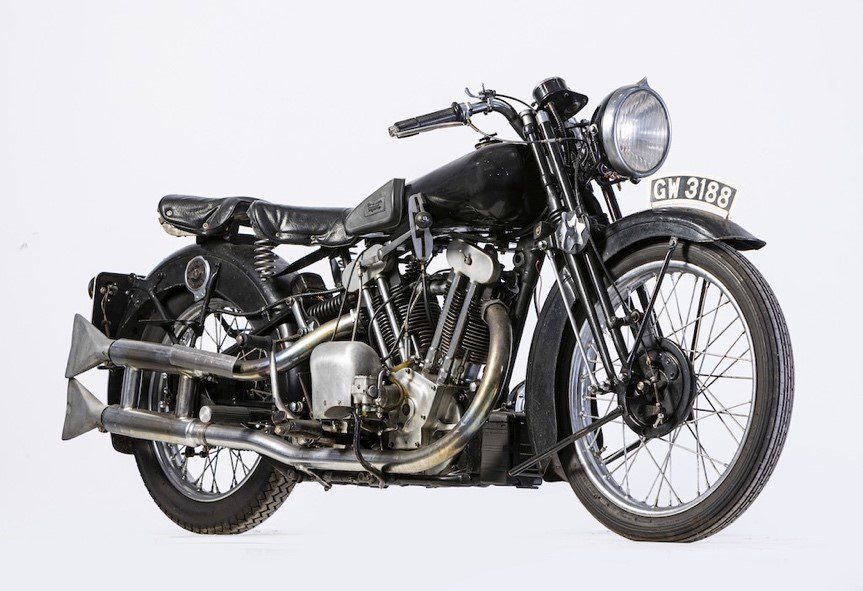 The 1931 Olympia Motor Cycle Show, 1931 Brough Superior 1,000cc SS100,
estimate £150,000-180,000
The Works Record Card shows that this SS100 Spring Frame was originally built as a motorcycle combination ('specialist coach on Watsonian chassis') and confirms all matching numbers except for the tank which is from a non-surviving 1932 machine. Interestingly, the frame number is only a single digit distant from the final Brough, 'GW 2275', owned by T E Lawrence, AKA Lawrence of Arabia.
This SS100 was acquired for £150 in 1973 by the current vendor, a former Vickers aircraft engineer for Concorde, who later commented "I was all too aware of the SS100's notoriety, especially as I worked as an aircraft engineer for Vickers at the historic Brooklands race circuit where, in 1939, an SS100 took the all-time track record of 124.51mph. It's more of a showpiece for me now and used only on special occasions. However, when I do give it a blast it remains somewhat frightening and exhilarating – both at the same time!"
Last used 30 years ago, and so requiring recommissioning for the road, the motorcycle has retained its Show finish, albeit beneath a protective layer of black paint applied by the vendor. The Brough has an estimate of £150,000-180,000.
The Bonhams Spring Stafford Sale offers more than 330 motorcycles spanning all eras – and all budgets – from the pre-1915 pioneer and pre-1931 Vintage periods to modern Italian exotica and cutting-edge Japanese machines, representing the A-Z of motorcycling.
Other highlights include a 1960 Ducati 125 Grand Prix machine campaigned by motorcycling legend Mike Hailwood; a 1963 Works Honda raced in period by fellow multiple World Champion Jim Redman and the 2022 Isle of Man Superbike and Senior TT winning BMW ridden by Peter Hickman. The sale will, as ever, present a selection of important single-owner collections such as that of endurance racer and leading bespoke motorcycle builder, Dave Degens, including his own hand-built Barcelona 24 Hours winning Dresda Triton.
This year's largest UK motorcycle auction, the two-day Spring Stafford Sale will be staged at The International Classic MotorCycle Show in Stafford, with all lots available to view throughout the weekend. Sale times are as follows:
Saturday 22 April
11:00 117 lots of spares and memorabilia
14:00 – circa 80 collectors' motorcycles
Sunday 23 April
10:00 – circa 250+ motorcycles, including all motorcycles listed above
A PDF of the printed full catalogue can be viewed here:
The Spring Stafford Sale – The International Classic MotorCycle Show by Bonhams – Issuu
Contact Bonhams Motorcycles for further information or to register to bid: ukmotorcycles@bonhams.com or +44 (0) 20 8963 2817 or visit bonhams.com/motorcycles.
Sale: The Spring Stafford Sale
Location: The Staffordshire County Showground, Stafford
Date: 22-23 April 2023
Media Enquiries
For further information, email press@bonhams.com
Images available: https://bonhams.box.com/s/j8639dpz7ehaqpa51jcsbv9i7pdfrgie
Credit: Bonhams
Link to sale: Bonhams : The Spring Stafford Sale – The International Classic MotorCycle Show